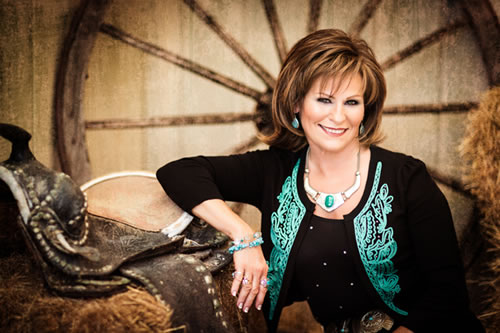 Joy grew up in the country with four brothers and lots of horses. She spent most of her time riding, competing and singing with the family. Music was always in the house, as her Mother sang and played piano. Her grandmother and Aunt both taught music for their living.
Joy's roots have always been Gospel and Country music. Some of her childhood favorite artists include Hank Thompson, Ernest Tubb, and Loretta Lynn. While Mom wanted her to excel in Gospel music, Joy still loved the country tunes even when she was four or five years old.
She mostly sang at family gatherings and church; all the while, perfecting her horsemanship. As a young wife and Mother, she was privileged to be invited to the Fort Worth Stock Show and Rodeo to compete in the "Ranch Girls Barrel Race" for 16 years.
After losing her children's father when they were seven and nine, she spent the next several years trying to provide all she could to help them through various school and sports activities, including competitive roller skating, select softball and high school rodeo. They both went to college on rodeo scholarships.
In the meantime she met and married Cotton Roberts, who helped with her daughters' rodeo activities. After about ten years of a very "trying" marriage, God intervened and Cotton totally turned his life around and began to speak at Cowboy Churches. Then their ministry, "Cowboy Connection Outreach" was birthed. Cotton spoke and Joy did the music. They held church at roping events and bull ridings, ministered at churches and any other place they could. They held a weekly church service in Azle, TX for several years until Cotton's health took a turn for the worst. After about five years of numerous issues, God healed and restored him and he is stronger than ever. They own and operate two businesses in Decatur, Texas: New Frontier Insurance and Cowgirl Auto Sales.
These are a few of the places Joy has ministered:
Various USTRC Team Roping church services, including three years at the Regional Finals in Jackson, MS
George Strait Invitational Team Roping Cowboy Church
Scott Mendes Bull Riding Cowboy Church
Opened for Phil Driscoll in Branson, MO
Prison Ministry with Mike Barber
Opened for Leon Rausch and Texas Playboys in Mena, AR
Follow the Flag 4th of July Celebration in Azle, TX
Halliburton Canada Tour
Gospel Night on Main Street
Regular on Little Branson Gospel Show for Bridgeport and Azle
If you need a great country gospel singer to minister at your next church service or event, look no further than Joy Roberts Ministries, and call today to book her in your church or venue!