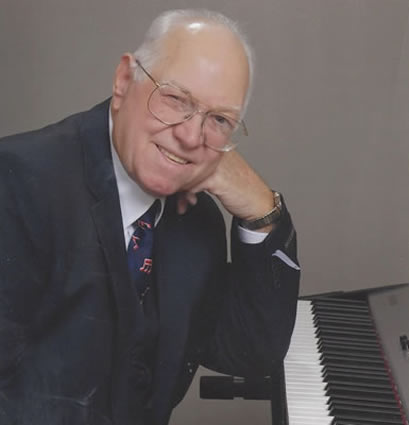 Donnie Wiggins has been tickling the ivories for the Lord for over sixy (60) years! His passion for his music and the message it brings to everyone who hears it drives him to keep going despite any challenge that arises!
Donnie's piano teachers range from a who's who of piano musicians, including Clair Wallace, who also taught Cecil Pollock (Otis Echols and the Melody Boys; Ranger Quartet; Frank Stamps and the Stamps Quartet), Whitley Gleason (Blackwood Brothers Quartet; Jubilee Quartet), Martha Hamm (Robert S. Arnold Ministries) and Hovie Lister (Statesmen Quartet; Masters V; LeFevre Trio; Homeland Harmony; Ranger Quartet)! Donnie met many of these artists when he attended the Stamps Gospel Music School in Dallas, Texas, during the years of 1958 to 1963.
For about seven years, Donnie sang with his family group, then played for Larry Jo Wright of Dallas, Texas. In 1974, he was a charter pianist for The Singing Christianaires. In his career, Donnie has played for Boundless Love, Swordsmen Quartet, Happiness Is, The Singing Batey Family, Trinity River Boys, and finally, Southern Promise, from which he retired from the road.
Donnie now spends his time as a musician in his home church, Christian Center of Mesquite, located in Mesquite, Texas. He still plays for a few groups occasionally, and he travels now for HeavenSound.
When Donnie plays you can hear the chords reminiscent of the glory days of convention music. His passion and talent brings an amazing sound to any gospel music event! If you'd like to book Donnie, please contact him at the number at the top of this page. Donnie will bring piano music and ministry to any event.