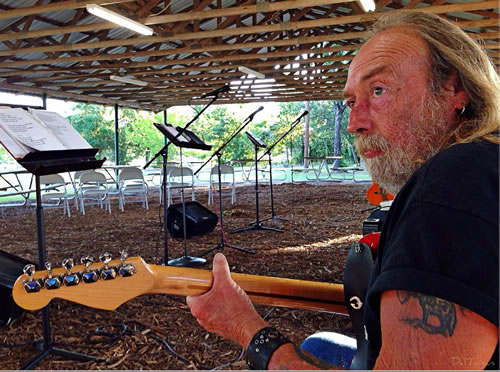 "Gunner" Carr grew up in Arlington, Texas, and spent a lot of his time in Oakcliff, a suburb of Dallas. He loved to ride motorcycles, so riding and running outlaw became a way of life for Gunner, as his friends called him.
He always had a love for music, and in 1973, he took his first stage in country music. He played all the secular stuff, including blues, country and old rock 'n roll. As Gunner says, "I played the road and chased the neon dream until 2000."
Then one night In a little club In Arlington, Jesus showed up and changed his life forever, and that's when he acquired a new nickname and became known as the "Outlaw Saved By Grace".
Gunner now lives in Rhome, Texas, and is happily married to his best friend, Barbara. Gunner loves God and wants to share God's love with others. We highly recommend Gunner for your next youth, young adult, or senior adult event. Gunner has an amazing testimony to share that everyone needs to hear. Use the information above to contact Gunner today!