---
Sound Clips
---
I Feel Like Traveling On
Midnight Cry
Sinner Saved By Grace
Mission Statement - History - Meet Southern Joy - Booking Info - References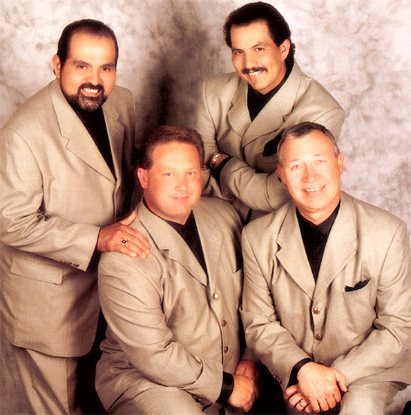 From the beginning of time, God had a plan for everyone's life. We, the members of The Southern Joy Quartet, truly believe that God has joined us together to fulfill the plan that he has for us in this ministry. Also, we believe that we're called to share the love of Jesus Christ through southern gospel music with everyone everywhere. Jesus is the answer for all life's questions and problems we face today. Furthermore, The Southern Joy Quartet agrees together to dedicate ourselves and talents to do the following:
Commit ourselves to individual and group prayer, always seeking God's will for our lives and our ministry.
To be living witnesses to others, to live our lives in such a way to reflect the moral principles and personal integrity taught by Jesus.
Allowing each and every service to be directed by the Holy Spirit and to always pray for his anointing to rest upon all present.
Impact the lives of the believers, by inspiring them and encouraging them to look to Jesus for strength and to desire a closer walk with him.
Finally, to lead the lost to Jesus, where they may experience the love, hope, peace, and forgiveness that only he can give.
To God, our Lord and Savior, be the glory for all things achieved through this ministry.
The Southern Joy Quartet began as a trio back in 1997 primarily singing in local churches or local events. Rudy, Joe, and Elton knew the Lord must have had a greater calling on our ministry at the time, but were unclear as to what extent. On March 25, 2000, the Lord began to work in a mysterious way to conform us from a trio into a quartet. The Lord sent us a bass singer, Paul.
The stage was set and all the pieces seem to be in place, for the beginning of a journey to share the gospel through music. The Lord has opened so many doors for us and we are sure that many more are to come. The group just celebrated our 1st year anniversary by performing a concert at the place we met, Emmanuel Baptist Church of Corsicana. I can truly say on behalf of the group, it has been a great year.
Some of our most memorable concerts and events are as follows: Opening for Ivan Parker, Nominated for the award, "Inspirational Group of the Year", by the Coast to Coast Country Association, being on radio, both AM 660 KSKY and FM 91.7 KVTT, and on September 29, 2001 we opened for the Melody Boys at the Will Rogers Coliseum in Fort Worth, TX. To God be the glory for all these great achievements so far, and the ones yet to come.
---
Tenor Singer. Joe Lopez
DOB: 03/21/1954
Birthplace: Dallas, TX
Graduated: Red Oak High School
Family Information: Married to a precious lady, Ruth Lopez, five children consisting of one son and four daughters. Our current residence has been home for the past 20 yrs and we are very active members at the First Assembly of God where we attend. I am employed with CS Specialty Cabinets and my wife is employed with the U.S. Postal Service. As a young man just 17 years old, I surrendered my heart and life to God and have been serving the Lord for 29 years. Some of the activities that my wife and I have been involved with at our local church are: Sunday School Superintendent, Sunday School Teachers, Pastor's Council, Praise & Worship Team, also I was the coordinator for the Lifebuilders Men's Ministry.
Bass Singer. Paul Furgerson
DOB: 12/23/1945
Birthplace: Madisonville, TX
Graduated: Madisonville High School
A&M at East Texas College
Family Information: Married for 34 yrs to my wonderful wife Doniece. We have two children, Cori and David, and two grandchildren, Colton and Haily. I came from a strong Christian family and was raised in the Assembly of God Church for the first 18 yrs of my life. Then I departed from the church and my walk with God and went my own way for about some 30 yrs. Truly I am very thankful that I came back to the Lord in 1994 and now with my wife attend the First Pentecostal Church of God in Corsicana. I m presently teaching the Adult Sunday School class and when our schedule allows, I sing in the choir and praise team.
Lead Singer: Rudy Lopez
DOB: 10/23/1963
Birthplace: Irving, TX
Graduated: Red Oak High School
Family Information: Married to my wife, Paula Lopez, for 19 yrs. The Lord has blessed us with four children, Ashley 17, Danielle 9, Zachary 7, and Jordan Scott 4. I was raised in Red Oak, TX and attended a Free Methodist Church in Dallas, TX where I was saved at the age of 12. A few years later, we started attending Assembly of God in Red Oak where I was filled with the Holy Spirit at the age of 14. It was then I realized that God had called me into the ministry. I have been very active in church holding different positions such as: Praise & Worship Leader, Youth Pastor, and served on the Pastor's Council. My family and I currently attend That Church, First Assembly of God, in Corsicana.
Baritone Singer. Elton A. Raney
DOB: 05/15/67
Birthplace: Beaumont, TX
Graduated: Corsicana High School
Navarro Jr. College
Family Information. Married 16 yrs to Linda, my loving, caring wife and the mother of our two wonderful children, Tiffany Lin, 12, and Aaron Kyle, 8. Born in Beaumont, TX but raised mainly in Corsicana, TX where, as long as I can remember, I have always been in church. My background is one primarily based on Pentecostal heritage, and I was saved when I was very young. My family and I currently attend the House of Praise Church of God in Corsicana. I, as well as the other members, am very involved in my local church. Some of the positions I have held are: Youth Leader, President of our local Lifebuilders Men's Ministry, Co-Director of the Boys Club (Pioneer for Christ), Adult and High School Teens Sunday School Teacher, Pastor's Council and Praise & Worship Singer. The Lord has blessed our group through my wife, who has currently written 8 songs for us. My goal is to always be willing to be used by God and to make heaven my home one day soon.
For Booking information, please call Elton A Raney at 903 872-4138 Home Number ~
903 654-2224 Cell Number
or write us at
SJQ Ministries
813 Ambassador Row
Corsicana, TX 75110
or email us: SouthernJoyQuartet@Hotmail.com or Rainman@pflash.com
What can one expect when attending a concert with The Southern Joy Quartet? A night of southern gospel music anointed and directed by the spirit, something for everyone and all ages. We want all that attend to leave feeling encouraged, inspired, refreshed and most of all knowing that Jesus loves them. Following is what others have to say about us:
I endorse and recommend The Southern Joy Quartet. Their talent and sound are excellent. They conduct themselves in a professional manner. Their ministry will be a blessing to you and/or your church. I am the pastor of the House of Praise Church of God in Corsicana and I have had them minister to us several times. We have never been disappointed.
In Christ, Rev. Timothy Schane, Pastor, House of Praise Church of God - Corsicana, TX. 75110. 903-872-0404
Southern Joy Quartet is a very talented and energetic gospel quartet. This group has a dynamic vocal ability, style and tight harmony. As a group they have great entertaining ability and I enjoy seeing them perform. I have had the privilege of having them on my Saturday morning show and everyone loved them. I give them lots of airplay on their CD.
Lorene Kirksey - Producer & Host, Southern Gospel Music KVTT FM 91.7 Dallas, TX.
It is with great pleasure that I give my wholehearted recommendation of The Southern Joy Quartet. This is a quartet of deeply committed people, whose lifestyles reflect Christ. Their dedication to God is foremost in their ministry. They are also very talented and gifted musicians.
Please feel free to call me should you have any questions concerning this group.
Rev. John C. Bates - Senior Pastor, "That Church " - First Assembly of God - Corsicana, TX. 75110. 903-874-6442
Mission Statement - History - Meet Southern Joy - Booking Info - References