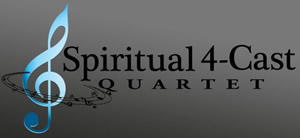 The Spiritual 4-Cast Quartet was organized in 2001 by members of the worship choir from First Baptist Church of Rockwall, TX. It's founding members shared a great love for gospel music and wanted to share that love with others.
Less than three years later, the quartet recorded its first CD, Steppin' Out. The group recorded their second CD in 2011 and they are currently working on their third and fourth CD projects.
Through the years the quartet has sung in a variety of churches in North and Central Texas as well as other venues, which include the National Postmasters Convention and for three consecutive years, the Ragan Days GOP fund raising event, as well as other various patriotic events.