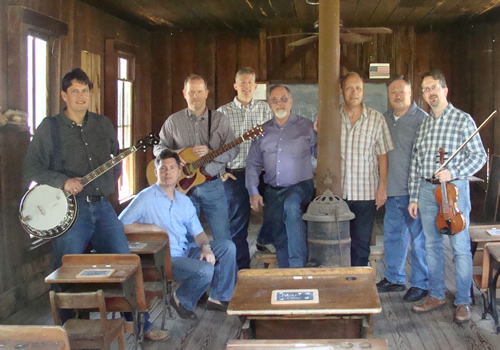 Formed in 2000, The Broken Cords, a dynamic group based in Arlington, Texas, enjoys singing for worship services, banquets and other gatherings. They've headlined First Baptist Church of Arlington's Gospel Homecoming for the last nine years, provided pre-show music for "The Promise" in Glenrose, sung at the Travis Avenue Concert Series and performed The National Anthem at Rangers Ballpark. The Broken Cords enjoy singing about the Good News through the use of various styles of Christian music such as southern gospel, bluegrass, contemporary and contemplative. The name Broken Cords is inspired by Psalm 116:16. "Yes, LORD, your servant will I be.... You've broken the cords that used to bind me!" The group members wish to be His servants as they, like all Christians, are freed from sin by the Grace of God.
The Grapevine
"For the past several years, The Broken Cords have been very much a part of Christmas for about 140 of our older adults. They have been the featured music at our annual Christmas Banquet and have delighted everyone there. The variety, obvious talent, ministry hearts, and sheer pleasure that they present each year brings a sparkle, and many times, a tear to every eye. To see the smiles as our folks listen and enter into the Christmas spirit of the music that has brought joy to their lives for decades always brings warmth to their spirits as well. Our folks love The Broken Cords!"
-- Larry Link, First Baptist Church of Arlington Associate Pastor of Education
"Ya'll were a huge hit; we definitely want you back next year!"
-- Valerie Grossman, GuideStone Financial Consultants
"The Broken Cords will truly lift your spirits, help you feel a sense of worship and bless you beyond words. They are a gift to First Baptist Church of Arlington and to those in the Metroplex who have had the privilege to hear them."
-- Lola Greathouse, Ministry Associate to Senior Single Adults & Outreach
"We would love to have you back."
-- Kristen Gibson, The Promise in Glen Rose, Inc.