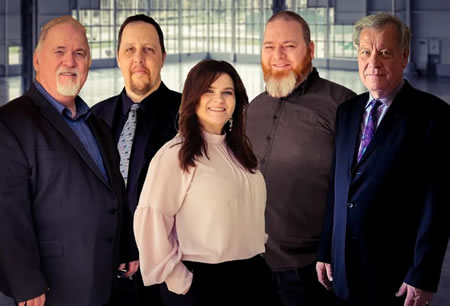 Some may define a successful music artist as someone with mutli-platinum record sales and multiple top 10 hits and world wide recognition. All that stuff may be good; however when you talk to the members in The Lighthouse Boys, success is a whole different concept. Success to The Lighthouse Boys means knowing that they are in God's will, using the gifts that He has given to them for His purpose. For some artists, good family entertainment is their purpose, but for The Lighthouse Boys, it has always been about ministry.
This kind of success has been clear since Mark and Bill Underwood, and Steve Johnson first started. For almost 50 years, fans, concert goers and church congregations from all over have enjoyed the ministry and music of The Lighthouse Boys. With several of their own albums and guest appearances on other artist recordings and various compilations, The Lighthouse Boys have helped carry the Gospel in Word and Song.
They have been seen and read about in several major Southern Gospel and secular media publications, and have made several local television appearances and interviews on radio stations throughout the United States.
They have appeared on stage at some of Southern Gospel's more popular events, and have been nominated for several awards. They were awarded the 2016 Bakersfield Country Music Awards "Gospel Award" and they are winners of the 1980 "Californians Choice Award" for Best Band. Although members have changed over the years, The Lighthouse Boys have always strived to maintain their unique sound. They are well known for bringing their own musical style to great Southern Gospel Classics while writing and producing their own songs.
Their success is found in their ministry seeing the alters filled, souls saved, people delivered and healed. They still continue to minister with a strong commitment to a call that was given to them by God almost 50 years ago. Performing at Churches of all different denominations, their desire is to see the Church ready for the return of our Lord Jesus Christ.
The Lighthouse Boys pray that when you attend a service or concert, your life will be changed and you will feel the presence of God in song and the Word.
---
PRESS INFO
The Lighthouse Boys have been together for 48 years.
MUSIC
They have released 6 albums and 3 Compilations of their own.
They have guest appearances on other artists' recordings and contributed to a number of various artist releases.
Their most recent single He'll Carry You is digitally available everywhere music is sold.
AWARDS
1980 Californians Choice Award "Best Band"
2014 Honored by the International Pentecostal Holiness Golden West Conference for 40 years of ministry
2016 Bakersfield Country Music Awards "Gospel Award"
Many other award nominations received
MEDIA APPEARANCES
The Lighthouse Boys have appeared in several regional television programs and news broadcasts, and in radio station interviews across the country. They have also appeared in many magazine publications (e.g., Singing News, Gospel Voice, Gospel Music Roundup, etc.), Webzines and web news sites (e.g., GospelMusicToday.com, SGN Scoops, Absolutely Gospel Music, CCAuthority.com, Mackie.com, etc.) and information sites (e.g., Wikipedia.org, etc.)
CONCERT and FESTIVAL EVENTS
The group has toured several parts of the US and have made appearances at these events:
The Great Western Quartet Convention/Fan Fest (Fresno, CA, Sacramento, CA and Visalia, CA)
Suwannee River Jubilee (Live Oak, Florida)
Western States Quartet Convention (Upland, CA)
Western Desert Gospel Sing (Victorville, CA)
WSGMA Memorial and Labor Day events (1994-2003; 2014-Present)
CCSGMA Concerts (2022)
IAMM - International Association of Music Ministries (2002)
ACTS Events (1991-1992)
Bakersfield March of Dimes Telerama (1975)
Several appearances up and down the West Coast