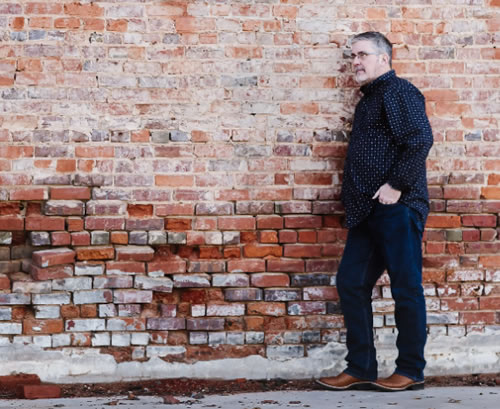 Growing up active in church and singing for most of his life, Dale would never have imagined where, or to the level, God would take him. Nor would he have imagined it to be flying solo, something that was never on his bucket list. Going on several years forward, beyond all imagination have been the amazing joys on this new path. Dale humbly expresses, "I am so, so blessed to be part of the ever-expanding Gospel music world, surrounded by beautiful fans and fellow artists."
Never forgetting the comradery of past singing with Praise and Worship groups, Dale cherishes the many years of mingling and forming relationships with countless Contemporary and Southern Gospel artists. Dale would open for Carman in the early days, spending lots of time with him and his crew. Whether it be in travels, sharing an event, or sharing a stage, Dale has been amongst some of music's greats -the likes of Joe Diffie, The Kingsmen, The Hinsons, Mary Faye Jackson, Johnathan Bond, Barbara Fairchild, Bill Baker, Donnie Williamson of The Williamsons, Karen Peck & New River, Mike Leichner, Craig Morgan, Triumphant Quartet, Darrell & Chris Freeman, and Molded Clay, just to mention a little more than a few.
Dale developed a long friendship with The Hinsons, the original group. That friendship has carried over to the next generation. In recent years as the legacy continues, The Hinsons (Kenny's son Weston, wife Christie, and daughter Jordie) have shared many events and dates with Dale and Janell. Dale loves to reminisce of those days in the 70s or 80s, "Oh, the family blends. The music that came out of that era is still popular today, as far as I am concerned. Purposely try to do many of those 'ole songs in our services."
Invited to sing at the Daywind Nationwide Talent Search in Alabama, Dale would meet the Gospel group, Molded Clay. While there, he and Janell would receive a call from the veterinarian that, due to heart issues, the family pet of thirteen years had been put to sleep.
Seeing them visibly upset, the guys from Molded Clay walked up and asked if they could pray with them. "Positive they were our angels sent to us from God himself, such a comforting, blessed group of men." By the way, Dale was runner up in the talent search, but at the time it did not seem so important.
Singing at the Loretta Lynn Annual Gospel Sing, looking up from the product table, there they were, the Molded Clay guys. "Such a welcomed sight," says Dale. "We were uncertain that we would ever run into them again. But there they were. That night moved to having a meal with them, ending with an acapella song, sitting right there in the middle of Cracker Barrel! What a joy!"
Dale is pleased that his solo career is "bouncing all around". Following an award event, and winning, Dale opened on the main stage for Triumphant Quartet and Karen Peck & New River. He has appeared on the Don Frost & Friends Gospel Hour on TCT television, with invites for three more tapings, a Christmas Special, and an Easter Program. An interview on TCT's Texas Country Gospel, produced by Ms. Mary Faye, led to co-hosting a show with her. Shows airing on TCT are seen 24/7, all over the US and some foreign countries.
Having participated in the Country Gospel At The Creek in Pigeon Forge (2021), an invite has been extended for this year. Dale was also a part of the Jammin' for Jesus event held at the Baldknobbbers Theater in Branson, Missouri, singing and co-hosting the December, 2021 show. Not to mention, Dale already has plans to be with the Jammin' for Jesus folks again this year. In his words, "All I can say is, thank ya Jesus! All that I ask is stand with me on your knees. Mention me when you talk to Jesus."
Group ministry or solo ministry, all face parallel challenges in searching for relatable music and booking events while balancing schedules, a family, and a week-day job. Dale enlightens, "I suppose my biggest challenge is my wife. Oops, best that I rephrase that. I suppose my biggest challenge is, well, me. My wife works a secular day job, in addition to the work she does for our ministry. During the really trying times of our ministry, my biggest challenge is to hold back my bark, sometimes forgetting to be thankful and so grateful for my best friend."
So far, two singles have made radio charting, one resting there for some twenty weeks. 2021 also produced a music video for Dale, Three Nails And A Cross, written by George Strait, Bubba Strait, Dean Dillon, and Bobby Boyd, produced by Mary Faye Jackson. "Blessed" are the many email responses from those who have seen it. Randal Christy, Gospel radio out of Ada, Oklahoma and Randall Wilds, Millennium Music Group/Wilds and Associates have been very influential in the success of the single release, Thank You Jesus.
Dale sums it up, "My testimony is lengthy, way too much for these pages. My life is filled with broken pieces, terrible choices, and ugly truths. But I know a God of comebacks. I am not a perfect preacher, in fact, not a preacher at all. However, to all those sitting in audiences thinking that they could never do a God called thing, let me tell you, you can. Besides, you will, if God gets a-hold of you! Have to say, do not know who is having the greater time of their life - Him or me!"
If given the privilege of being in a Dale Rochell concert, know this by his own admission, he is not an entertainer. A concert will always turn church, an event to honor all of Him. If Dale should stop in the middle of a song, it is because God said, 'Whoa, that is not the right song.' "That God only be glorified, not Dale Rochell. I am just here ... to go. See you there!"