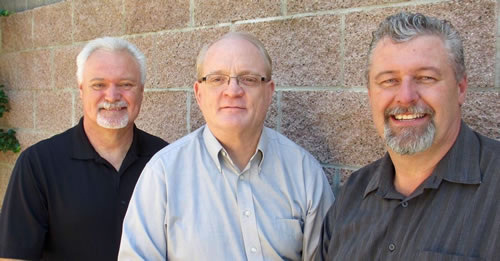 Father's Heart Trio was founded in 1998 as a ministry of music to local churches. Aptly named, Father's Heart Trio desires to communicate the calm, assured peace that comes through connection with the Lord. Since 2002, Greg, Randy, and Larry have been privileged to share their love of gospel music together on the stage, revealing the love and grace of God through the singing talent with which they have been gifted. Father's Heart is grateful for the opportunity to sing and fellowship with believers from churches and gatherings of all shapes and sizes.
Greg Zollinger
As a junior in high school, Greg developed a love for gospel music in a quartet called The Four Apostles. Through performing with this group, he further gained a desire to impact people by singing about the Lord and His love, which Greg came to know when he was nine years old at children's camp in Glenn Rose, Texas. Greg, with 34 years of gospel music singing experience, resides with his family in Watauga, Texas and enjoys sharing dinner with his wife and four daughters.
Randy Mapston
Randy grew up in a home where the sounds of gospel music permeated every activity,including cleaning the house on the weekends. At an RA camp when he was 12 years old, Randy first made the decision to follow Christ. Since rededicating his life to the Lord at age 28, Randy has had more than 25 years of singing experience in gospel groups, sharing his faith in an approachable, easy-to-receive manner. Randy resides in Watauga, Texas, and joyfully shares a deep love of animals with both of his daughters.
Larry Zollinger
From an early age, Larry showed an affinity for music, and remembers his mom and his aunts singing and playing gospel hymns. Larry gave his life to the Lord at his kitchen table when he was eight years old, and describes the feeling of calm assurance he felt at that moment as what continues to draw him to singing gospel music. For over 40 years, Larry has been involved in performing music of some kind, travelling professionally for several years singing country music. He resides in Hurst, Texas, and values the time he gets to spend with his wife, son, and daughter, discussing life and taking the occasional family golf outing.
Through sharing their gift of singing gospel music, Father's Heart Trio aims to foster an environment of worship, connectedness to the Holy Spirit, peace, and the understanding that God's grace is inconceivable abundant and plentiful.