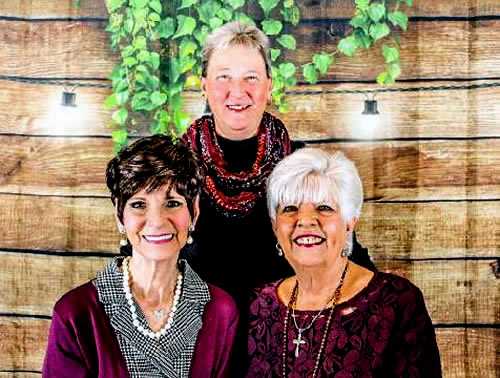 Singing and making melody with our hearts to the Lord - Ephesians 5:19


Hearts in Harmony, a DFW-based trio, formed in early April 2023. The group says God who brought them together, as they had never met previously and were delighted to learn things about each other. They developed a love for music and singing at an early age, and their voices blended together very well. With much anticipation, they can hardly wait to see how God uses them to minister to others.
Hearts in Harmony sings various genres of music, including Southern Gospel, Country Gospel, Bluegrass Gospel, Contemporary Praise and Worship, and the old traditional hymns which we all love. They bring energy and dedication to every engagement, are profoundly serious about their music ministry and would be honored to come and minister in song at your church services, dedicated events, fundraisers, weddings, or funerals. So schedule them today using the information in the upper right corner of your screen. You will not be disappointed.
BIOGRAPHIES
Sheila Wilson
Sheila, a native Texan born in Fort Worth, started singing at the age seven with her younger sister and cousins. Today, music continues to be her calling. Sheila accepted Christ and was baptized at an early age at Bethel United Methodist Church (UMC) in Fort Worth. She later became a member of Western Hills UMC for 45 years, singing in their Chancel Choir. Sheila is a current a member of Benbrook UMC and sings in the choir as well as specials during the worship service.
In September 2000, Sheila went into solo ministry and for several years was a member of the Southern Gospel Music Association of Texas. Later, she began singing with Linda and Steve Miller, both of whom have now gone home to glory. Sheila also sang with Dennis Davis and the group King's River, and now in April 2023 in a women's trio. Currently, Sheila is a member of North Texas Gospel Music Ministries and has an active solo ministry in addition to this trio. She is a very gifted singer who loves to sing for the Lord and looks forward to any and every opportunity to praise Him with her talent.
Myra Riggs
A native Texan also, Myra was born in Paris and developed a love for music at age ten when introduced to the song My Favorite Things. Its vivid lyric descriptions and the melodious rise and fall of the music captivated her heart, and she was hooked. Looking back now, she believes this could have been prophetic as music did become one of her very favorite things in life. Myra's first solo came at age 11, and during middle school she became engrossed in singing, initially in mixed choir but soon with an all-girl concert ensemble. Her family moved often, but Myra joined the mixed choir in her junior year of high school. She was soon invited by the choir director to audition for the a capella choir, where she then gained experience in UIL competitions.
Myra received Jesus into her heart in 1995 and began singing in choir, doing solo special music during church service, as well as in numerous Easter and Christmas cantatas. Since that time, Myra continues to minister the Gospel in song every chance she gets. She has sung at many weddings as well as countless funerals throughout her ministry, including the ones for her stepdad, her mother, and most recently in 2017, her husband of 45 years.
Currently a member of First Baptist Church in Decatur, Myra sings in the worship choir and serves on a front-line vocal rotation for Sunday service. She also sings solo features during church Easter and Christmas productions. She joined North Texas Gospel Music Ministries in 2023 and has an active solo ministry in addition to singing in this trio. Myra's three main objectives in her music ministry are to bring glory to God, to point the lost to Jesus, and to encourage the body of Christ. She gives all glory, honor, praise and blessing to the only One worthy of all our praise.
Sharon Hendrickson
Although not a native Texan, Sharon got to Texas as soon as she could, y'all! Raised in Olpe, Kansas, Sharon too grew up loving music. Some of her fondest memories are of singing with her siblings around the family piano while her mother played. Sharon sang all through her high school years in musicals and choruses, then continued singing during college in various choruses. She also sang in a community chorus.
Living in Kansas, Sharon directed her church choir for over 20 years, and outside the church services, she also had a ministry singing at weddings and funerals. She sang in the local chapter of Sweet Adelines for five years, where she competed in regional competitions and special concerts within the area. In 2010, Sharon moved to Fort Worth, Texas, joined Western Hills UMC and sang in the church choir. She also has sung solo features during church services. Sharon has always considered her main ministry to be praising God through song. She is a current member of the North Texas Gospel Music Ministries and has an active solo ministry as well as singing in this trio.